Presentation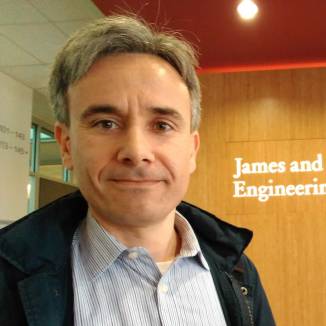 Félix J. García Clemente received his Ph.D. degree in Computer Science at the University of Murcia (Spain) in 2006. At present, he is a Full Professor in the Computer Engineering and Technology Department at the same institution. His teaching activity is mainly devoted to computer networks, advanced network management and cybersecurity technologies. In relation with his scientific activity, his major research interests focus on computer networks, cybersecurity, Industry 4.0 and learning analytics. He is co-author of over 100 scientific publications (including journal and conference proceedings) and an active member on different national and European research projects (12 in the last decade) related to these topics. As part of these projects, he is collaborating with different universities, companies and research centers across Europe. He has already supervised 3 PhD students, and is currently advising a fourth one, always on these topics.
Prof. García Clemente is working on different R&D contracts with companies (21 in the last decade, 6 CDTI funded projects) in relation with advanced services like location-based services, distributed management, and industrial automation, being principal investigator in most of them. Because of these projects, he has 5 patents in exploitation at the moment. He is also a founding partner of the technology-based startup Bleecker Technologies (also participated by the University of Murcia), which is dedicated to the application of computer vision in the field of industrial applications. This company has received several national and international innovation awards from both public and private institutions in the last two years, such as "Sello EiBT" by ANCES, thanks to its applied scientific innovations in the field of computer vision applied to logistic traceability in industrial environments, and the "NEOTEC program" by CDTI.
Prof. García Clemente is the principal investigator of the research group Mobile Computing and Artificial Vision formed by 8 professors from different departments, and a project manager of the UMU Cybersecurity and Data Science Lab that encompasses a group of researchers with a strong commitment for quality research and developments around cybersecurity and data science. He was a visiting scholar at the research group Coordination & Interaction Systems of the EPFL School of Engineering (Switzerland), the National Institute of Education of NTU (Singapore) and the Ginzton Lab of Stanford University (USA).
Prof. García Clemente was the Director of Technology Transfer Office of the University of Murcia and the Vice-dean for Academic Affairs at Faculty of Computer Science.
home.txt

Última modificación:

2022/12/22 11:01

por fgarcia@um.es