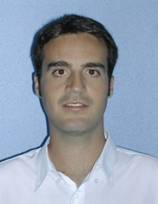 Facultad de Economía y Empresa
                 Despacho D1/02
                 Campus Universitario de Espinardo
                 30100 Espinardo (Murcia)
                 e-mail: jomonreal@um.es
                 Tel: (+34) 868883803
                 Fax: (+34) 86888367537
                 Joaquín Monreal Pérez holds a Degree in Economics and in Law (University Carlos III,
                 Madrid, Spain). He also holds his PhD in Business Sciences (University of Murcia,
                 Spain). He holds a Master in Foreign Trade (ICEX/CECO, Madrid). He joins the 
                 Department of Management and Finances at the University of Murcia, and at the same
                 institution, he is a member of the Family Business Research Group and the  Business
                 Direction and Management Research Group.
                 His research lines are firm internationalization (exports), innovation and family
                 businesses management. In this field, he has published in a number of  prestigious 
                 international journals (e.g. Journal of Small Business Management, Sustainability,
                 International Business Review, Journal of Business Research, Business Research 
                 Quarterly, European Journal of International Management or Economics Letters). 
inicio.txt

Última modificación:

2021/11/02 09:21

por jomonreal@um.es