Invited talks and plenaries
"Interpreting the review process in applied linguistics research". With Cornelia Tschichold & Alex Boulton. 24 January 2022. Feedback in Scholarly Peer Review Online Symposium. URL. Queen's University Belfast, UK.
Doing science in times of uncertainty: scientific blogging during the early days of the pandemic in Spain and the UK. Critical. Discourse Studies and Social Change: Where are we at? Feb 16-17,2022, Universidad de Granada
Interview for CorpusCast, Department of English, Languages and Applied Linguistics. Aston University, UK. Available 2 March 2022.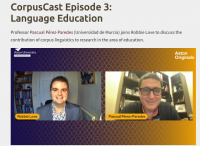 Data-driven learning in informal contexts? International Perspectives on Corpus Linguistics for Education 2022 Seminar Series. The University of Queensland, Australia.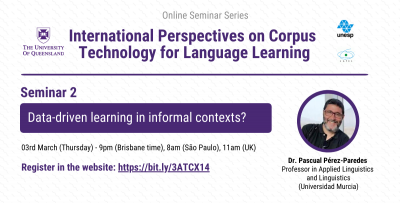 Using corpus linguistics methods in education research. University of Bath. 25 May 2022.
Academic writing and digital resources: streamlining corpora in practitioner professional development (PPD)courses. 15th Teaching and Language Corpora (TaLC) Conference 13th – 16th July 2022 University of Limerick, Ireland.
CL as a research methodology in applied linguistics . Meeting Future Challenges in Language Teaching and Testing: Building Teams, Setting Goals. University of Coventry. 25–26 July 2022.
Corpus linguistics approaches to the analysis of professional registers and genres. Universidad de Zaragoza. 27 October 2022.
Corpus linguistics workshop. AntConc: A corpus analysis toolkit for concordancing and text analysis. Taller de lingüística de corpus. AntConc: Una suite de herramientas para el análisis de corpus y textos. Instituto Interuniversitario de Lenguas Modernas Aplicadas (IULMA). Universidad Jaume I. 16 December 2022.
talks.txt

Last modified:

2023/01/30 19:40

by pascualf@um.es