Peter Jones specialises in inter-disciplinary research on different approaches to governing human uses of marine ecosystems. He is internationally recognised as an authority on marine protected area and marine spatial planning governance issues, with a particular focus on how state, market and participative approaches can be combined to achieve strategic conservation objectives. He has been an advisor to the European Common Fisheries Policy and England's conservation agency on marine protected area governance and recently undertook a project for the United Nations Environment Programme to analyse how different approaches can be combined to effectively govern marine protected areas, based on 20 case studies around the world (www.mpag.info). He is also leading a work programme on governance as part of a project on the monitoring and evaluation of spatially managed marine areas (www.mesma.org) to support the development and implementation of marine spatial planning in Europe's seas. Peter was recently appointed to the Committee for the Sussex Inshore Fisheries and Conservation Authority which has given him the interesting opportunity to apply his research knowledge to actual day-to-day management of the coastal seas near his home, including several existing and proposed MPAs. See http://www.geog.ucl.ac.uk/~pjones for contact details and more information.

Sergio Villamayor-Tomas is research Associate and lecturer at the Division of Resource Economics, Department of Agricultural Economics, Humboldt University, Berlin. He obtained his PhD in Public Policy and Management (School of Public and Environmental Affairs and Workshop in Political Theory and Policy Anaysis, Indiana University) under the supervision of Elinor Ostrom and William Blomquist. Previous to his PhD program he obtained a Master in Public Affairs in the same school and a Master of Science in Public Policy at the National School of Political Science, Paris. Sergio's research has focused on understanding robustness to droughts and other disturbances in Spanish irrigation communities through the lenses of Common Pool Resource theory. He has also worked on applying the Social-Ecological Systems framework developed by Elinor Ostrom and colleagues to the irrigation management sector. In the near future he will be conducting field work to replicate his research on robustness in Mexican irrigation communities. He will also be co-leading a project to explore the usability of the SES approach to understand sustainability in large fresh water systems.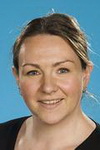 Clare Fitzsimmons's background in environmental research, coupled with commercial experience gained in defence and marine consultancy sectors has given her a wide array of interests, unique analytical skills and familiarity with novel techniques not formerly applied to marine environmental issues. Although her expertise developed across several fields, a common theme is the analysis of complex systems. She now applies this to marine management and governance, primarily investigating human interactions with ecological systems. Interested in the ways in which human activities and their organisation impact upon the marine environment; she focuses on understanding governance systems to support decision making for natural resource management, and associated values and trade-offs made at multiple scales. Current research is developing novel social network analysis and futures techniques to explore marine resource management and governance through large-scale regional work across the Caribbean (EC FP7; Defra). She also sustains a successful local ecological programme. This aims to provide management relevant research to support the new inshore conservation obligations of local Inshore Fisheries and Conservation Authorities (IFCAs) and centres on high value local crustacea stocks, associated habitats and fishing behaviour. It attracts multiple funders (NERC, Cefas, Natural England, NIFCA, the Marine Management Organisation).

Betty Queffelec is a public law lecturer at Brest University. She is situated in the field of integrated marine and coastal zone management (ICZM and Maritime Spatial Planning) and biodiversity. After a Master in Law of the Sea, she has become Doctor in Law. Her PhD was about the concept of Biological Diversity in international law. She was in charge of the legal analysis for the French team in COREPOINT project including an analysis of the ICZM notion and in IMCORE project aiming at developing Innovative Management for Europe's Changing Coastal Resource. She has analysed the integration of climate change concerns in local public policy on the coastal zone (especially the Morbihan Gulf case study) and has strongly contributed to the development of TAGAZAN database gathering case studies concerning coastal risk management linked to climate change. Then, she moved to the Maritime Institute in Ghent (Belgium), in the framework of a Marie Curie Post-doctorat to develop a research on Maritime Spatial Planning in the French / Belgian transboundary context. She is now conducting researches about marine environmental law at Brest University.

Mauro Randone is an independent ICZM and natural resource management consultant. His education includes an IB/UWC Bilingual Diploma, a Degree in Marine and Freshwater Biology (2001) and an MSc in Environmental Technology (2002) from the University of London. He was selected as a UN fellow for FAO (Vietnam) from 2006 to 2007 where he worked as a Natural Resource Unit Coordinator for the Integrated Management of Lagoon Activities (IMOLA) Project. He has been involved in several international ICZM and natural resource management projects in Uganda, Algeria, Vietnam, Iraq and Kazakhstan. He has matured over 10 years theoretical and practical GIS experience, particularly on the application of GIS in ICZM. He's currently collaborating with Med Ingegneria S.r.l. as a Deputy Project Coordinator for the "Master Plan for Sustainable Development of the Caspian Coastal Zone of Kazakhstan". Since 2013 he also collaborates with Studio Associato 3E's and with the International Institute for Cooperation and Development (NGO).

Martina Milanese, Degree in Biology (2000), PhD in Environmental Marine Sciences (2004). In charge of project management and field activity supervision for Studio Associato Gaia snc (GAIA), involved in national and international research projects since 2000 including FP6 INTERMED and FP7 4SEAS, SPECIAL and MMMPA. Several scientific papers related to marine biology, ecology and ecosystem services. A diver since 1993, PADI Master Scuba Diver Trainer since 2004, full boat license in 1997. Experienced as a professional diving instructor, dive guide, u/w videographer and environmental awareness promoter. Long standing experience in scientific u/w and field operations. Participation in the design and preparation of dissemination/outreach material (books, videos, CD-ROM and texts within diving journals) and events.
Carlo Cerrano, MMMPA project coordinator, Assistant Professor at the Department of Life and Environmental Sciences (DiSVA) at the Polytechnic University of Marche. Author of about 250 scientific papers, and over 140 on peer-reviewed journals. Referee for 16 international journals with impact factor. He is involved in several national and international projects, focusing on benthos ecology, not only in the Mediterranean basin but also in Antarctica and tropical regions. Areas of interest - Autoecology and taxonomy of hard bottom zoobenthos, with particular reference to Porifera and Cnidaria. He studied the effects of sedimentation on sessile organisms, focusing on the uptake processes of sand. His results allowed to put in evidence a selective behaviour of incorporating organisms, leading to the definition of the biomineralogy, the science that takes in account the interactions between biological systems and minerals. Its scientific activity considers also the bioerosive processes and the study of life histories in relation to climate change. He is lecturer for the following courses: Scientific Diving Methodologies and Zoology.
lecturers.txt

Última modificación:

2013/07/13 16:26

(editor externo)