"¿Quieres Pasear Conmigo?". 2013 Special Mention at the Visual Arts Competition Creajoven organized by the Murcia City Council (2013)
The act of walking step by step can acquire different meanings depending on, for instance, the reasons we have to walk, the scenario chosen to walk around or how the random interferes in our itinerary. There is a wide variety of artistic practices that reflect on the act of walking, ranging from those that, in nature, look for a wild spirit lost in our social conventions, to those that in an urban landscape fight against the stressful rhythms of cities and offer different ways to interact with the urban environment. In contrast to these physical walks, there are artists that work with mental walks, free of body movement. While the physical capacities are really important –Henry Thoreau says: "As if legs were made to sit down instead of walking"- we have to highlight that our minds allows other possibilities that, at the inability of walking or the inability of obtain satisfactory experiences walking, they can offer alternatives paths.
Now a day, one of the most democratic tools that exempt the body from physical movement and that permit the elimination of geographic distances between users, is The Internet. To walk along the Web, also called surfing The Internet, implies mental movements in different virtual spaces. That medium and the new technologies stand up for the instantaneity: the here and now. However, the optimization of time seems to disappear when we log into the huge database that is the Web. In it we can get lost easily, linking different websites and documents constantly and without realizing how time runs. Although, surfing the Net, we don't look for "a leisurely pace as rebellion" or "an accommodation of the body movement to the needs of our spirit" -as a lot of artists do- it is true that The Internet encourages to a new version of "Flaneurism" in which we roam from link to link arriving to unpredictable places.
The artwork titled ¿Quieres pasear conmigo? (Do you want to walk with me?) reflects about how users move along the hypertextual architecture of the Internet. This work was made accessible via a Facebook profile in which we have exploited its characteristics to generate a wide range of itineraries through the hypermedial information (texts, images and videos) designed for this experience. All its information reflects, in turn, about the digital walks themselves through the different online databases. Being Facebook a social network, its users can add, share and modify contents in the artistic profile.
Moreover, we have started an initiative that consists on generating digital collages displayed in the album called Paseando por vosotros (Walking through you) that are made with the information profile of the friends of ¿Quieres pasear conmigo?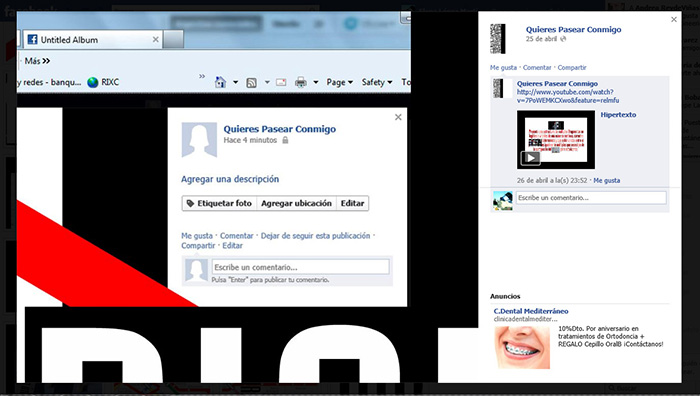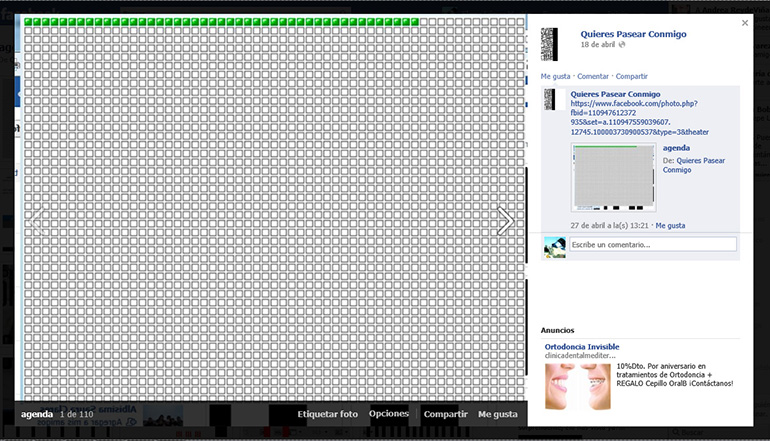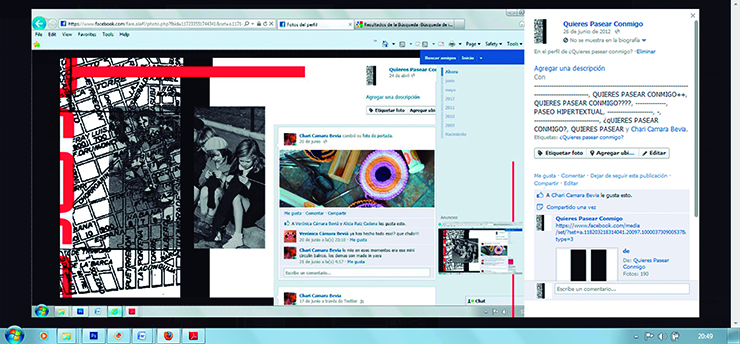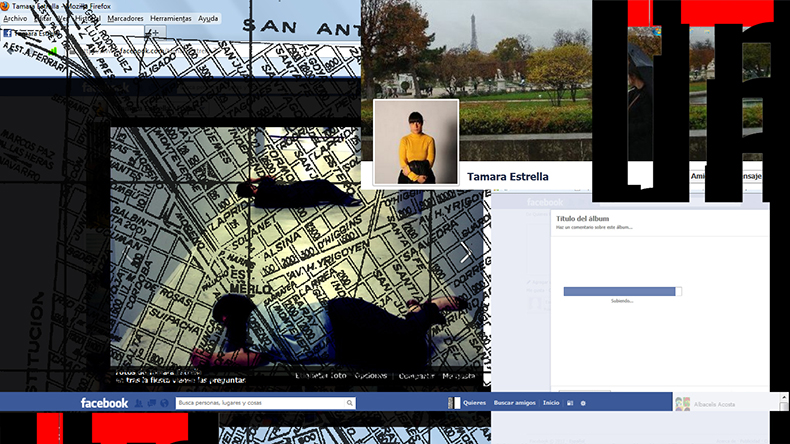 qpc.txt

Última modificación:

2013/12/08 20:05

(editor externo)