GENERAL DATA
e-mail address: mageorts@um.es Telephone:
Work: 34 868 88 38 58 Position: Professor at the School of Humanities, Interpretation and Translation Department, University of Murcia.
EDUCATION AND QUALIFICATIONS:
PhD in Modern Languages (English), University of Murcia (SPAIN). BA in in Modern Languages (English), University of Murcia (SPAIN). Diploma in Translation and Interpreting, (English-French) University of Granada.
Now accredited as a Full Professor by ANECA (the Spanish University System Quality Observatory of the National Agency for Quality Assessment and Accreditation), I hold a BA in English Philology and a Diploma in Translation for the Universities of Murcia and Granada, respectively(1979-85). I started developing my professional activity very early as a translator in the fields of Law and Economics, working for several national and international institutions.Later, I became a PhD in Modern Languages (English) on the subject of English legal discourse (the Analysis of the Institute Cargo Clauses) in 2000.
I joined the English Philology Department in 1987, and was a Senior Lecturer since 1989, in the area of English for Law, Business and Economics. I was a part-time instructor of Business English at the Chamber of Commerce and Industry from 1987 to 2000, training professionals for the British Chamber of Commerce examinations. In those years I coordinated and taught various Crash Legal and Business English courses at the Educative Promotion Service at the University of Murcia.
I have been the Coordinator and Lecturer of English for Banking at the Master in Banking Economy co-organised by the Faculty of Economics and the Business School of the University of Murcia since its first edition in 1990 to date. For some years now, I have lectured in Business English at the ENAE Business School, University of Murcia, in the MBA and Overseas Trade Masters.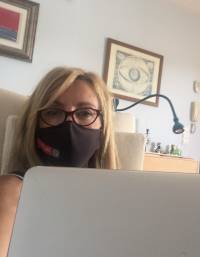 I have been researching and teaching Languages for Applied Purposes for the whole of my career, especially in the fields of Legal, Economic and Business language. I am a vocational and trained specialised translator. As a result of such an activity, I currently work as a Professor at the Department of Translation and Interpretation, where I teach all the Specialised Languages (Economic, Legal and Scientific and Technical)and their translation from English to Spanish, and viceversa.I have taught and coordinated numerous postgraduate courses in Legal, Economic and Scientific English, also publishing extensively on these areas. My present research revolves around the economic and legal lexicon of the Global Systemic Crisis, the translation of corruption crimes and gender violence, the expression of power and legitimation in legal texts and the translation and interpretation of legal genres in the Common Law and Continental traditions.
about_me.txt

Última modificación:

2022/02/11 17:13

por mageorts@um.es