MASTER EN DERECHO Y NEGOCIO MARÍTIMO Y GESTIÓN PORTUARIA Módulo de INGLÉS. Barcelona 2012
Dra. María Ángeles Orts Llopis. Profesora Titular de Traducción Especializada Universidad de Murcia. Facultad de Letras. Campus La Merced (Murcia). Tel: 868 883858. E-mail: mageorts@um.es
CONTENTS:
MODULE 1: SHIPS, PORTS AND GOODS

Part A –The ship and the port: facilities, management and services.

Part B – The handling and carriage of goods: transport methods and packaging. International clauses and for the transportation of goods: the Incoterms.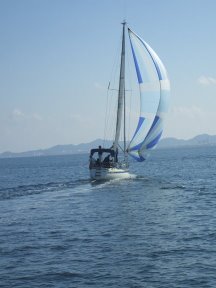 MODULE 2: MARITIME COMMERCE

An introduction to the shipping business. The main terminology for the consignment of goods. Major documents: The Bill of Lading, the Charter Party, the Institute Cargo clauses.
MODULE 3: INTERNATIONAL PAYMENTS

Export payments: the Documentary Credit and the Documentary Bill of Exchange.
REFERENCES USED AND RECOMMENDED READING:
* MANUALES PRÁCTICOS DE INGLÉS APLICADO AL ÁMBITO MARÍTIMO
• * Aranzabal, F.J. 2000. Manual Práctico de Inglés Marítimo. Vitoria-Gasteiz: Serv. de Pub. del Gobierno Vasco. • Bakr, M. 1979. English for Nautical Students. Glasgow: Brown, Son and Ferguson • Blakey, T.N. 1987. English for Maritime Studies. Hertfordshire: Prentice Hall • Branch, A.E. 1990. Import / Export Documentation. London: Chapman & Hall • Buelga, J., y Wilson, D. 1994. English for Maritime Commerce. Madrid: COMME • López Pampín, A., y González Liaño, I. 2004. Inglés Marítimo. A Coruña: Netbiblo. • Pritchard, B. 1999. Maritime English. Udine: Del Bianco Editore. • Radice, F. 1989. English for International Trade. Surrey: Nelson • Van Kluijven, P.C. 2003. The International Maritime Language Programme. Alkmaar: Alk & Heijnen Publishers. • Marí Sagarra, R.: "El transporte de contenedores: terminales, operatividad y casuística". Edicions UPC, S.L. • George L. Canfield, George W. Dalzell, Jasper Yeates Brinton. The Law of the Sea: A Manual of the Principles of Admiralty Law for Students, Mariners, and Ship Operators. Wm. S. Hein Publishing, 1983
MANUALES PRÁCTICOS DE INGLÉS APLICADO AL ÁMBITO JURÍDICO-COMERCIAL GENERAL • Greenall, S. 1987. Business Targets. London: Heinemann • Jones, L., y Alexander, R. 1996. New International Business English. Cambridge: Cambridge University Press • Norman, S. 1989. We're in Business. Harlow, Essex: Longman • Orts Llopis, M.A. 2000. English for Overseas Trade. Murcia: Diego Marín Editores. • Palmer, J.C. y Pérez, M. 2000. Learning English to Trade. Castellón: Servicio de Publicaciones de la UJI. • Reberioux, J.F., y Scott, M. 1995. Inglés para el Comercio Internacional. Barcelona: Larousse Planeta • Whitcomb, A. 1987. Comprehensive Commerce. Edinburgh: Nelson.
DICCIONARIOS TEMÁTICOS/ESPECÍFICOS • Alas, C 1984. Diccionario Jurídico-Comercial del Transporte Marítimo. Serv. Pub. Universidad de Oviedo. • Alcaraz Varó, E. y Hughes, B. (1993). Diccionario de términos jurídicos inglés-español-inglés. Barcelona: Ariel. • Lozano Irueste, J.M. 1991. Diccionario Bilingüe de Economía y Empresa. Madrid: Ediciones Pirámide. • Malagón Ortuondo, J.M. 1996. Diccionario Náutico. Inglés-Español-Inglés. Madrid: Editorial Paraninfo.
modules.txt

Última modificación:

2012/01/16 17:48

(editor externo)