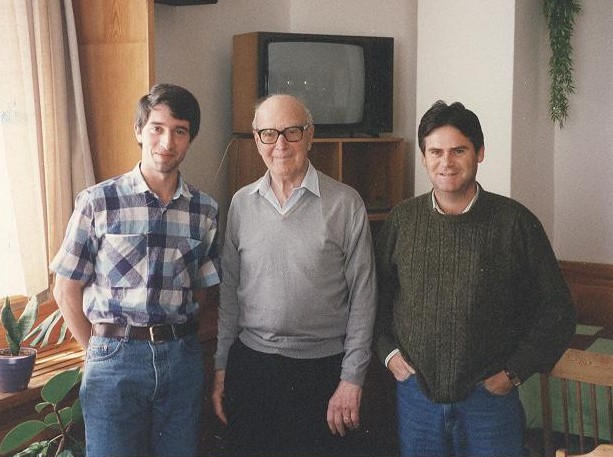 Spring School 1997, Paseky (Rep. Checa), con G. Choquet y B. Cascales
TEMAS DE INTERÉS
Mi investigación en Matemáticas puede encuadrarse en los siguientes epígrafes:
Geometría de los espacios de Banach, en particular la Teoría de renormamientos, esto es, relacionar la existencia de normas equivalentes con características especiales (de convexidad, suavidad, topológicas) con otras de propiedades del espacio de Banach, frecuentemente de muy distinta naturaleza.
Convexidad en dimensión infinita: propiedades de los conjuntos convexos, puntos extremos, puntos expuestos, teoría de Choquet, propiedad de Radon-Nikodym, funciones convexas, índices ordinales…
Topología general: metrizabilidad, propiedades de cubrimiento, clases de compactos ligadas a los espacios de Banach (Eberlein, fragmentables, descriptivos…), espacios de funciones continuas y medidas de Radon.
Teoría descriptiva de conjuntos, en particular conjuntos de Borel en espacios no metrizables ni separables (entre los cuales el prototipo es un espacio de Banach con la topología débil) y la medibilidad de funciones en este mismo contexto.
Información más detallada (hasta mediados de 2021) puede consultarse en esta memoria preparada con motivo de mi oposición a cátedra (ojo, la redacción está orientada a poner en contexto mis resultados) investigacion.pdf
CONGRESOS RECIENTES Y PRÓXIMOS
Estos son los congresos a los he asistido recientemente o tengo previsto asistir:
PUBLICACIONES
PREPRINTS
Ergodicity and super weak compactness.

2023 (with G. Grelier)

2023b.pdf
Topologies related to (I)-envelopes.

2023 (with O. Kalenda)

2023c.pdf
ARTÍCULOS
Se acompaña una versión de cada artículo, generalmente distinta de la publicada para no incurrir en problemas de copyright. Aquí, al contrario que con las publicadas, puedo corregir las erratas si las encuentro, y si se trata de un error irreparable, advertirlo.
Más información sobre estas publicaciones y otras relacionadas en Google Académico
LIBROS Y CAPÍTULOS
Análisis Funcional, Ediciones Electolibris 2012 (reprint 2018), 373 pages (with B. Cascales, J.M. Mira and J. Orihuela)
Banach spaces I, Banach spaces II, in Encyclopedia of General Topology, Edited by K.P. Hart, J. Nagata, J.E. Vaughan. pp. 449 - 458. North-Holland, 2003. (with B. Cascales, I. Namioka and J. Orihuela)
TESIS DOCTORAL
En el enlace hay una versión de mi tesis (Bordeaux 1998 - Murcia 1999) editada con notas y correcciones thesis_revised.pdf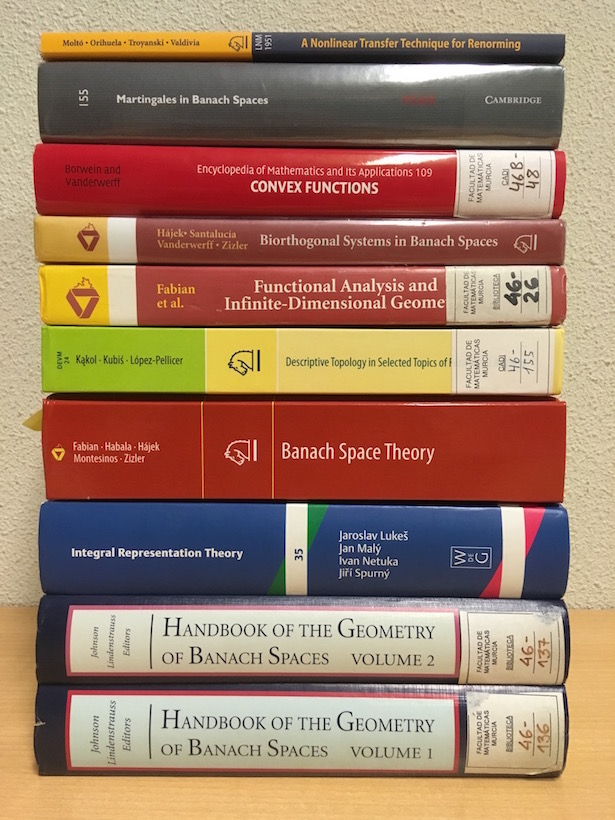 investigacion.txt

Última modificación:

2023/03/18 11:59

por matias@um.es